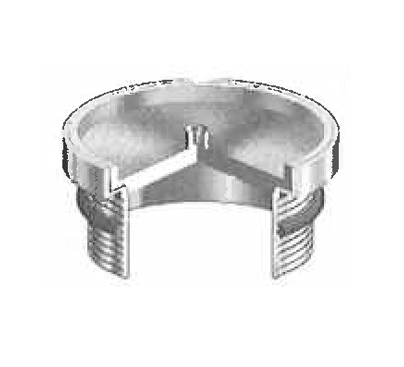 MIFAB® Model C1200-C-UR Series adjustable floor cleanout with lacquered cast iron upper and lower bodies with anchor flanges, secondary "O" ring Test Seal, cast iron membrane clamp rings for waterproofing membrane, neoprene expansion compensator, 4″ diameter cleanout opening and scoriated combined cover and plug top assembly with stainless steel vandal proof allen key screws and primary gasket seal.
SKUs: C1202-C-UR, C1203-C-UR, C1204-C-UR, C1205-C-UR, C1206-C-UR
Specifications
Series

C1200-C-UR

SKU
C1202-C-UR, C1203-C-UR, C1204-C-UR
C1205-C-UR, C1206-C-UR
Function

Used in computer rooms and other areas that have cables and wires underneath a floating floor assembly to provide emergency access to the plumbing lines for removal of blockages. Neoprene expansion compensator provides flexibility with floating floor system. Membrane clamp is bolted onto the anchor flange, securing the waterproof membrane in place. Seepage control is not available since cleanouts must be gas tight. Replacement of the surface level cover / plug with the neoprene gasket glued to the underside provides visual evidence that the cleanout has been properly resealed to prevent harmful sewer gases from entering the building.